The dawn of Ethos Reserve represents a massive step forward for the Oath ecosystem, and while the team continues to improve on the platform it's important to make it very clear what they're building toward, and moreover why Ethos Reserve matters.
If we view finance as a means of transferring risks and rewards between parties, then DeFi serves as a way to make this transfer more efficient, secure, and accessible. As primitives are transformed into products, products are composed into new primitives, and additional structures are built into the DeFi landscape, it's easy to lose sight of the bigger picture (we're just getting started).
With demand for DeFi yields lowered by rising trad-fi interest rates (among other things), the Oath Ecosystem team has been focused on building infrastructure to increase the security, performance, and reliability of our applications. Alongside this effort, we developed the Ethos Reserve protocol to serve as our bid for the future of the crypto-financial industry.
How will Ethos fit into the future of DeFi?
While it's easy to compare Ethos in its beta state to the sea of CDP-backed stablecoins flooding the market, it's important to understand the long-term goals of the technology.
The purpose of Ethos is to utilize deposited collateral as safely and efficiently as possible to generate yield. While mechanically simple, this capability represents a massive technical moat without a conceivable upper limit to its potential. As crypto yield instruments continue to become more advanced, Ethos will grow alongside them.
As this moat continues to widen, users can think of Ethos as a wrapper for these DeFi innovations, leveraging decentralized yield instruments and decentralized collateral to achieve maximal levels of sustainability as a protocol and foundation.
The Ethos Reserve Roadmap
While the OATH Ecosystem team works on the short term strategy detailed here, the Ethos core team is working toward a series of long term goals which are organized below into three parts: init, advance, and evolve.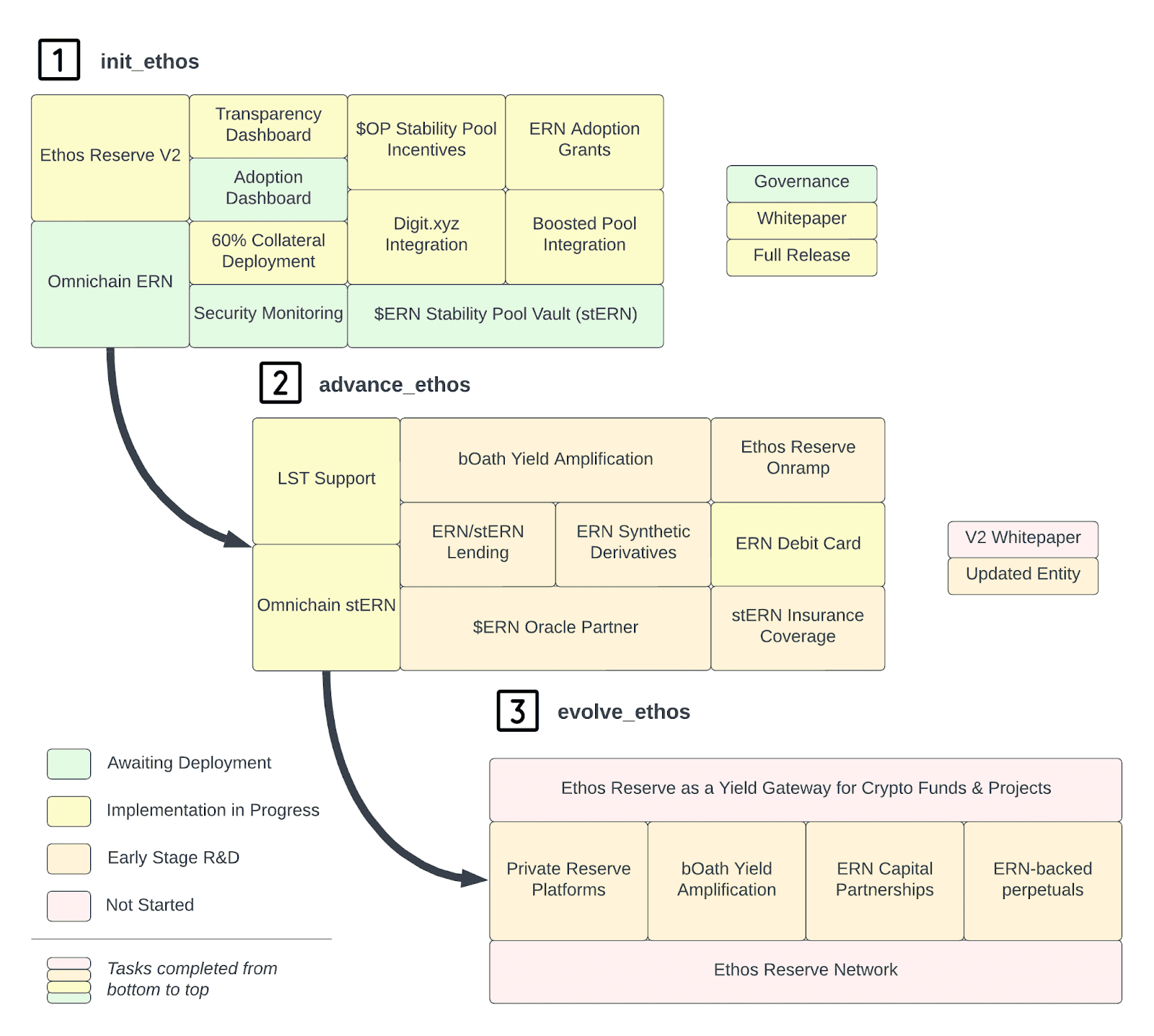 This roadmap will be worked on in tandem with new Reaper yield strategies to maximize the potential of Ethos Reserve. Individual tasks within the roadmap will be explored in-depth within future articles, and you can read more about each stage below:
The initialization stage of Ethos represents the tasks that make up the beta period of development. Currently, Ethos Reserve manages a small portion of its collateral earning modest yields. This is because the Ethos team is building monitoring and security infrastructure to make scaling the protocol as safe and secure as possible.
Movement into the next stage will be characterized by the release of decentralized governance, the Ethos Reserve whitepaper, and advancement to a 2.0 version of the platform. From this point onwards, the team will start to build utility into the ERN token and scale its underlying yields to make it the most desirable stable asset on the market.
In its current specification: Ethos 2.0 is planned to feature:
Better alignment of incentives for depositors
More flexible collateral management
Support for LST assets
Support for Real Yield mechanics
This specification may be adjusted as needed in order to maximize product-market fit as Ethos 2.0 approaches launch.
While advancing Ethos adoption, the team will seek to make ERN and stERN a staple of DeFi systems. A lot of these items become possible by scaling the platform, with volume and time-in-the-market requirements for both insurance coverage and oracle partnerships. Look out for additional information about these scaling strategies in an upcoming article.
For the past six months, the team has been speaking to potential partners to help make ERN easy to hold and spend, even while it's in the stability pool. Our goal is to make ERN an everyday part of users' financial routine and make onboarding and offramping as seamless as possible.
Additionally, the team has been exploring avenues which would allow ERN to underpin an entire synthetic asset ecosystem.
An important long-term objective of the Ethos team is to maximize ease-of-use for institutional customers. Some improvements on the roadmap that will help achieve this include:
Enterprise yield gateways for exchanges, custodians, and hedge funds
Private stERN vault factory
Ethos Reserve omnichain API
Customizable stable-asset solutions for collateral onboarding and treasury management
Customizable strategies and risk profiles
Deep incentive alignment between ecosystems and the Ethos Reserve platform
Bespoke risk management & automation solutions
The Ethos team imagines a world where this technology can be appropriated by institutions to flesh out an entire DeFi ecosystem through a simple stablecoin-powered onboarding process. Through the Ethos Reserve architecture, massive treasuries can be sourced and managed publicly, with the transparency and auditability we've come to expect from decentralized financial solutions.
The potential for Ethos Reserve is limitless, and our team is motivated to empower a new generation of DeFi users with its simple onboarding and open-ended architecture. While working through technical roadmap items, the front-end team will continue to add features to enhance the accessibility of Ethos and its underlying data.
Additionally, OATH tokenomics will be revisited to better center the ecosystem around the Ethos Reserve Note and its associated real yield opportunities.
Join the Community
Please visit the OATH Ecosystem governance forums at https://forum.oath.eco to help shape the future of $OATH and its associated technologies. Get started
here
.